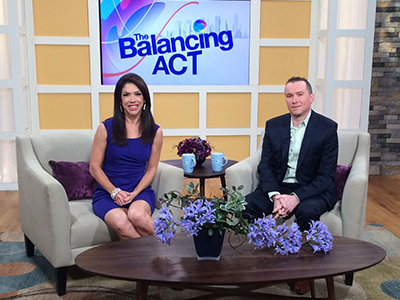 Award-winning morning show The Balancing Act® will feature :DentalPlans, a leading dental and health savings marketplace, Wednesday, September 30th at 7:30 a.m. (EST/PST) on Lifetime Television®.
This edition of The Balancing Act will explore alternatives to dental insurance as well as the impact that dental care has on our overall health.
"We are very excited for the opportunity to be on The Balancing Act. Oral care is very important to a person's overall well-being and we see it as part of our responsibility to educate consumers on this fact," says Bill Chase, vice president of marketing for :DentalPlans.
"Our mission since the beginning has been to allow everyone access to affordable dental care, to deliver quality products to the health conscious consumer, and to support them in their drive to live healthier, happier lives."
:DentalPlans was founded in 1999 and has helped more than a million people to affordably access quality health care services, offering 40+ dental savings plans from trusted healthcare brands, including Aetna, Careington, Signature Wellness, and UNI-CARE.
Dental savings plans are an affordable alternative to dental insurance. More than 100,000 participating dentists nationwide have agreed to accept a reduced, pre-negotiated fee from dental savings plan members. Depending on the plan, members can receive 10- 60 percent off of a wide variety of dental services, including orthodontia and cosmetic procedures.
Select plans offered by :DentalPlans also provide discounts on vision and hearing care services, prescriptions, chiropractic treatments, telemedicine and other wellness and health service products.
In 2014, according to the Department of Health and Human Services, more than 100 million people in the U.S. did not have dental insurance. :DentalPlans' :DP SmileIndex™, an annual survey* on oral care access and affordability, found that 87% of national respondents currently have health insurance, while only 62% currently have dental insurance.
"Not everyone can afford to pay out-of-pocket for dental services," adds Chase. "We want consumers to know that there are quality, affordable alternatives to dental insurance."
"For parents that find themselves without dental coverage for their family, dental savings plans could save them a lot of money," adds Chase. "For example, a family of four using the Aetna Vital Savings plan, which costs $179.95 annually, could save $864 on their annual ADA recommended treatments alone. That's $684 in savings, when including the cost of the plan. And the savings can really add up when considering additional dental care that may be needed for you and your family, like sealants for children's teeth, crowns, braces, and more."
As a special treat for The Balancing Act viewers, :DentalPlans is hosting a giveaway of 15 family plans as well as a chance to win a grand prize pack including a dental savings plan, telemedicine plan, prescription card and branded merchandise. To enter to win, viewers should visit dentalplans.com/lp-dp/the-balancing-act.
To learn more about dental savings plans, consumers can visit DentalPlans.com.
###
*A national study was conducted for :DentalPlans between Jan. 1 and Jan. 7, 2015 by Infosurv Research. A total of 1,200 national respondents were surveyed, yielding data with a margin of error of +/- 2.83%.
An independent study of its members was conducted for :DentalPlans between Jan. 21 and Feb. 4, 2015 by Infosurv Research. A total of 9,410 national customers were surveyed, yielding data with a margin of error of +/- .99%.
About :DentalPlans
:DentalPlans, founded in 1999, is a leading dental and health savings marketplace in the U.S., helping more than a million people to affordably access quality healthcare services. Our mission is to empower consumers with the tools, information, and services that they need to live happier, healthier lives.
We provide comprehensive resource centers aimed at helping people to maintain/regain optimal health, and successfully navigate the maze of healthcare payment options (including Obamacare and Medicaid.) Our independent research – the :DP SmileMeter™ and :DP SmileIndex™ – delivers a unique look into the consumer healthcare market. We offer user-friendly access to a wide selection of traditional dental insurance and 40+dental savings plans, along with innovative healthcare offerings including telemedicine, medical advocacy, and online counseling services. Our online plan comparison and savings calculator tools help consumers to make smart choices about essential healthcare services, and our :DP AtYourService™ customer support team leaves no question unanswered. For more information, visit us at www.DentalPlans.com.
About The Balancing Act®
Entering its 7th season, The Balancing Act continues to empower women in all aspects of their lives. The mission at The Balancing Act is simple – to help today's modern woman balance it all by bringing them positive solutions to enrich and empower them. Entertaining, educational and trusted by women, viewers can tune in to America's premier morning show The Balancing Act on weekday mornings Monday through Friday at 7:30 am (ET/PT) on Lifetime. For additional information or to view a segment visit: http://www.thebalancingact.com/