Aetna Vital Dental SavingsSM provides participants with average discounts of 15-50% on dental procedures at more than 161,000** available dental practice locations nationwide through one of the largest dental savings networks – Aetna Dental AccessSM. It's so easy to use – you'll have your entire family smiling!
This plan has some great perks.
Save 15-50%
Save on exams, cleanings, x-rays, root canals, dentures, and more
Orthodontics savings
Adults and children can save on ortho treatments, such as braces
Cosmetic savings
Save on cosmetic work such as implants, teeth whitening, veneers, and more
No annual limits
No limit on how much you can use your plan or how much you can save each year
No restrictions
No exclusions based on current dental conditions
Vision and LASIK savings
Save 20-40% on exams, lenses, frames, LASIK and more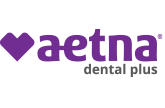 Upgrade to Aetna Vital Dental Savings℠ Plus for even more smiles
Additional Benefits
Hearing
Prescription
Vision
Let's look at what this plan includes.