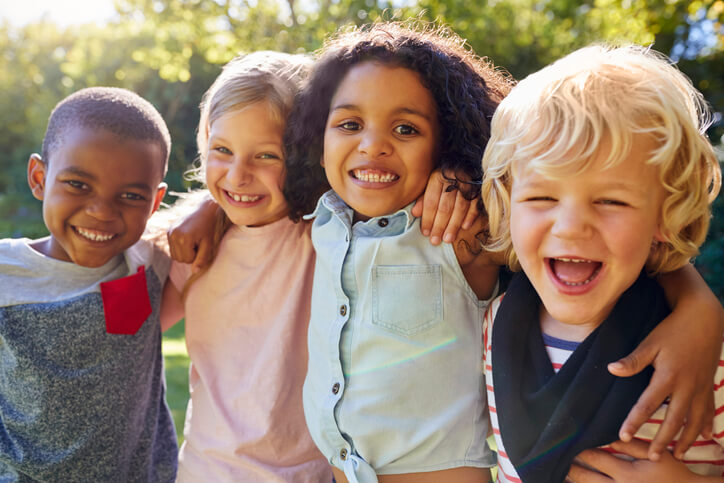 National Children's Dental Health Month is a yearly event celebrated in February to raise awareness about the importance of proper oral hygiene, healthy eating habits, and regular dental check-ups.
Sponsored by the American Dental Association (ADA), this event has been held annually since 1941. The 2023 National Children's Dental Health Month theme is Brush, Floss, Smile! 
Tooth decay is one of the most common chronic diseases among children in the U.S., according to the Centers for Disease Control and Prevention (CDC) – and it's the most preventable. Regular dental checkups and cleanings along with good oral hygiene, significantly reduce the incidence of tooth decay. Sadly, approximately 1 in 5 American children aged 5-19 years have untreated tooth decay, and more than 1 in 5 have at least one cavity in their baby teeth.
Fun dental facts for kids
Getting children to brush and floss every day isn't always easy, especially when parents have a million other things on their plate.  But, what if dental hygiene could become just a little more enjoyable?  The team at DentalPlans.com, a leading provider of dental savings plans, created a free, fact-filled, fun activity book just for kids in celebration of National Children's Dental Health Month.
And you can visit our page on dental care for kids, where you'll find a curated collection of activity books, games, classroom activities, science experiments, and teeth-oriented jokes.
Dental health tips for parents
The American Academy of Pediatric Dentistry (AAPD) recommends that children see a pediatric dentist by the time they reach their first birthday, or within six months of their first tooth coming in. Visitng the dentist early can help ensure good oral health from an early age, as well as preventing dental problems from developing.
The AAPD recommends a diet low in sugar and high in calcium, regular brushing and flossing, and avoiding habits such as thumb-sucking that can damage teeth. Regular dental check-ups, cleanings, and fluoride treatments are also important for maintaining good dental health in children.
Help your kids maintain their dental health by:
Teaching them the "2x2" rule – brush your teeth twice a day for two minutes
Asking your dentist or dental hygienist to check your child's brushing and flossing technique
Making your kids aware that sugar leads to tooth decay
Helping them make a habit of rinsing their mouths with water after consuming sugary foods or drinks
Ensuring that your child is getting regular dental checkups and professional cleanings
Talk to your dentist abut professional treatments, such as sealants, to shield kids' teeth from decay
How poor oral health impacts kids
Untreated dental disease in children can have a significant impact on their overall health and well-being. Kids with dental decay are typically tired, anxious, distracted and restless. They may experience chronic ear and sinus infections. They can have a hard time recovering from colds, and are prone to respiratory diseases.
They can also often be malnourished simply because it hurts to chew. A diet of soft foods doesn't provide good nutrition and can lead to obesity, diabetes and heart disease. Children with dental disease also have an elevated risk for serious oral health problems throughout their life. Their permanent teeth may be infected, badly misaligned or very fragile.
Other potential impacts include:
Speech difficulties -Tooth decay and missing teeth can affect speech development and result in speech difficulties.
Low self-esteem - Children who are self-conscious about their dental appearance may experience low self-esteem and social withdrawal.
School absences - Children with untreated dental problems may miss school due to dental appointments or pain, affecting their academic performance.
Infections and systemic diseases - Untreated dental infections can spread to other body parts, leading to more serious health problems.
Affordable dental care for kids
The financial impact of delaying care is significant. Treatment of severe tooth decay can cost $10,000 and up. In extreme cases, where anesthesia and/or dental implants to replace teeth may be required as part of the treatment plan, that cost can easily double.
Thankfully, there's no need to skip checkups and cleanings. Dental savings plans for families make quality dental care affordable to everyone. With a dental savings plan you can save 10-60% on the majority of dental procedures for every family member. Some plans even offer significant discounts on orthodontia (braces). And unlike traditional dental insurance, there are no annual limits, so you can count on saving all year.
If you'd like to learn more about how dental savings plans work, please reach out to us at 1-833-735-0399.