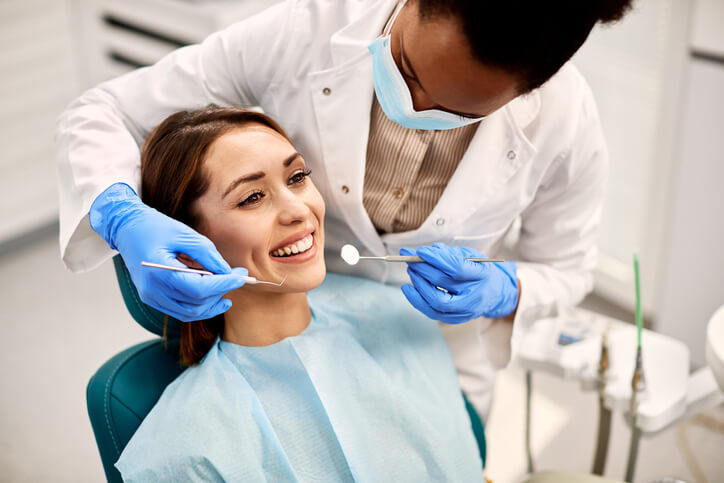 Oral health is essential to your well-being and quality of life, and visiting the dentist regularly helps ensure your dental hygiene is in good condition. Whether your dental appointment is for a routine checkup, dental cleaning, or a more advanced procedure, there are several actions you should take to help you prepare for your visit. Here's what to do before a dentist appointment.
How to Prepare for the Dentist
Consider these eight tips to help you prepare for your next dental appointment:
1. Confirm The Appointment
Many dental offices offer text and email reminders about your appointment, but you should still call the office within 24 hours of your appointment to confirm it. Also, ensure you have the correct address before heading out to your appointment in case the office has moved to a new location. That way you don't drive to the old location and miss your appointment.
2. Transfer Dental Records
If you're a new patient, contact your old dental office and have your dental records sent to your new dentist. Your dental records offer a written record of your oral care history, including diagnostic records, treatment plans, X-rays, and consent forms, among other things. While you can visit your new dentist without these records, it gives them accurate information about any dental procedures you've undergone or oral issues you've faced.
3. Clean Up
It's a good idea to thoroughly brush and floss your teeth before sitting down in the dentist's chair. The dentist and hygienist will be up close and personal to your face and mouth, so you don't want to go to your appointment with food stuck between your teeth.
4. Arrive Early
Planning to arrive early is always a good idea. It gives you ample time to complete forms and relax before your appointment. If you're a new patient, arriving early also allows you to introduce yourself and get to know the staff. If you show up too late for your dentist appointment, you might forfeit your spot and have to reschedule.
5. Prepare Your Information
If you're a new patient, be prepared to provide your medical history and information about the payment method you intend to use. If you're seeing your regular dentist, you may want to make a list of any changes to your health, medications, or dental insurance. Providing this information to the office staff can help your appointment go as smoothly as possible.
6. Openly Discuss Dental Problems
Bring a list of any oral health questions you have. . Discussing dental issues with your dentist before they become dental problems can help them determine preventive treatment and may keep you from having to make a dental emergency appointment in the future. Don't be afraid to tell your dentist about your fears. You can work together to find a solution to help you relax during treatment.
7. Get The Details
If you're coming in for a dental procedure instead of a simple checkup, you may want to call your dentist before the appointment and get all the details from them. Ask your dentist how long the appointment will last, whether you need someone to accompany you, and what post-operative guidelines to follow.
8. Schedule Your Next Checkup
Schedule your next appointment before you leave the dentist's office so you remember to come in regularly for cleanings and checkups. Many dentists recommend coming in for an appointment every six months, but your dentist may want you to come in more frequently if your oral health needs more attention.
Utilize a Dental Savings Plan for Your Next Checkup
Routine dental appointments are an important part of your oral hygiene. They help keep your teeth and gums healthy and allow your dentist to detect problems before they become bigger, more expensive issues. If you don't have dental insurance, you may want to consider joining a dental savings plan.
Dental savings plans provide plan members with 10-60% off the majority of dental procedures, including checkups, cleanings, and other preventive care, as well as savings on costly restorative care, like crowns, bridges, dental implants and more. While traditional dental insurance has waiting periods, annual limits and pre-existing condition restrictions, dental savings plans do not. If you would like to learn more about dental savings plans, please call us at 1-833-735-0399.