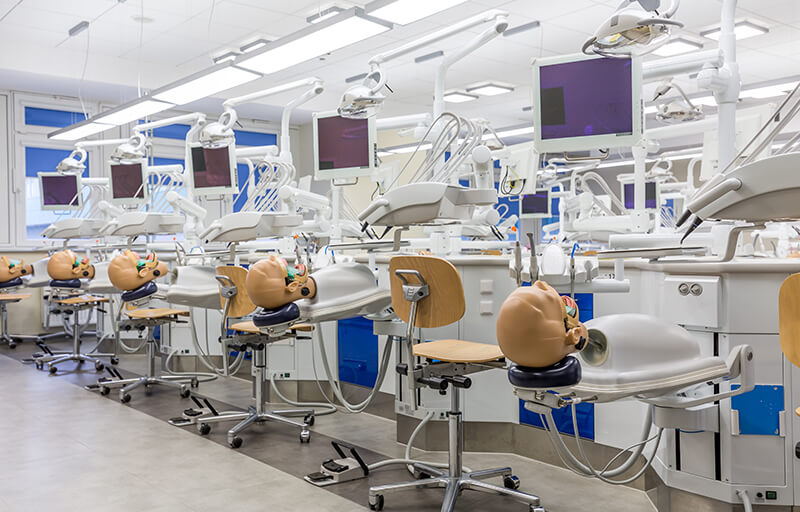 Maybe you've been holding off on getting dental care due to budget issues, hoping the cash would be available when the problem became too painful to ignore. Or maybe you're dealing with a dental emergency, and don't have dental insurance or funds immediately available to pay for treatment. How can you get the care that you need right now? A dental savings plan is likely to be your best choice – its affordable, activates quickly so you can get care fast, and you can choose your own dentist. But let's look at all the options.
Hospital Emergency Rooms
If you're in significant pain, or have an oral infection, you might consider heading to the nearest emergency room. While the ER is not the best place to get dental care, you won't be the only person in the ER with an aching tooth. An analysis of the most recent federal data by the American Dental Association shows that every 15 seconds, someone pays a visit to the ER with an aching tooth.
At the ER you can get prescriptions for antibiotics to address an infection, and pain medication to get you through the next few days. You might be able to get a tooth removed, if there is a dentist on staff. What you are unlikely to get is a comprehensive solution to your dental problem – most ERs do not have dental expertise, so your symptoms will be treated but not the cause of the symptoms. You'll likely be back in the ER within months, and the average cost of getting care in the ER for a dental emergency is $749 (if you live in a mid-sized or big city, you'll pay more – over $1000.) Obviously, this is unsustainable.
All that said, it's better to go to the ER than to allow an infection to fester untreated. If you have a choice of hospitals, try to go to an ER that is associated with a community dental clinic so that you can make a follow-up appointment with the clinic before you leave the emergency room. Community clinics are often understaffed and over booked; a referral from the ER may get you in to see a dentist a little quicker.
Community Dental Clinics
All states provide at least a few low-cost or no-cost dental clinics. If you live in a rural area, you may have to travel to access one, many of the clinics are in cities – especially cities with dental schools. Some dentists also offer treatment priced on a sliding scale, meaning they will adjust their rates to your income.
Check with your local public hospital, larger hospitals may have a community dental clinic or may be able to refer you to one. You can also check with your state's dental association, which you can find on the website of the American Dental Association (ADA). The ADA also provides a useful map that shows all of the free and low cost dental treatment programs within each state. The map includes dental school clinics, dental care access programs, dental clinics and organizations devoted to helping people access affordable dental care.
Dental School Clinics
Dental school clinics can be a great choice to deal with extensive dental health issues. Dental students need to acquire on-the-job training and experience before they can be licensed. The care may not be free – most schools work on a sliding scale basis - but it is always very affordable. The tradeoff is that you'll likely spend more time in the dentist's chair - as students are working under supervision of a licensed dentist who needs to check their work carefully and spend plenty of time one-on-one with each student and patient¬ - and you may need to visit the clinic numerous times to complete your treatment plan. You can find a list of dental schools here.
Dental Care Accessibility Organizations
Other organizations that can help you find a dental clinic or affordable care include the United Way, a community-based coalition of charitable organizations.
You can also check the Health Resources and Services Administration (HRSA), the nation's primary resource for uninsured citizens or those who are at high risk of developing health problems if they don't get medical/dental care ASAP.
Dentistry From The Heart arranges free dental care events, during which dentists donate their time to provide dental treatment to those who can't otherwise afford it.
Mission of Mercy offers free dental treatment to those who do not have enough dental insurance coverage, or no dental insurance at all in Arizona, Maryland, Pennsylvania, and Texas.
Medical Studies
The National Institute of Dental and Craniofacial Research (NIDCR), one of the federal government's National Institutes of Health, sometimes looks for volunteers with specific dental, oral, and craniofacial conditions to participate in research studies, also known as clinical trials. Researchers may provide study participants with limited free or low-cost dental treatment for the particular condition they are studying. To find out if there are any NIDCR clinical trials that may meet your needs, visit the NIDCR web site and click on "Clinical Trials." For a complete list of all federally funded clinical trials, visit this site.
Beware of Bad Websites
Be cautious about websites that promise to provide you with lists of free or low-cost dental care providers in your area. Be wary if they request your contact information, or demand that you create an account (with email and password) before you can access their database.

In some cases, these websites are simply collecting data that they can use (or sell) to marketing companies. In others, they may be fishing for information that they can use to steal your identity – since many people use the same email and password to log into multiple websites or internet services that contain financial information. There's rarely any need to enter anything more than a zip code to find a dentist or dental clinic near you.
Dental Savings Plans (a.k.a. Dental Discount Plans)
The affordable option to dental insurance, dental savings plans, also known as dental discount plans, are a great choice when you need dental care as soon as possible. One problem with free or low cost options listed above is that they typically require a lot of waiting before you can see a dentist (or, for an emergency room visit, a far higher cost than you'd normally pay for dental treatment). And you can join a plan that your current dentist – or another accredited dentist near you - accepts, rather than being assigned to a dentist. For help choosing a plan that activates fast and will save you the most money on the dental care that you need, call our dental savings experts at 866-815-6963 now.