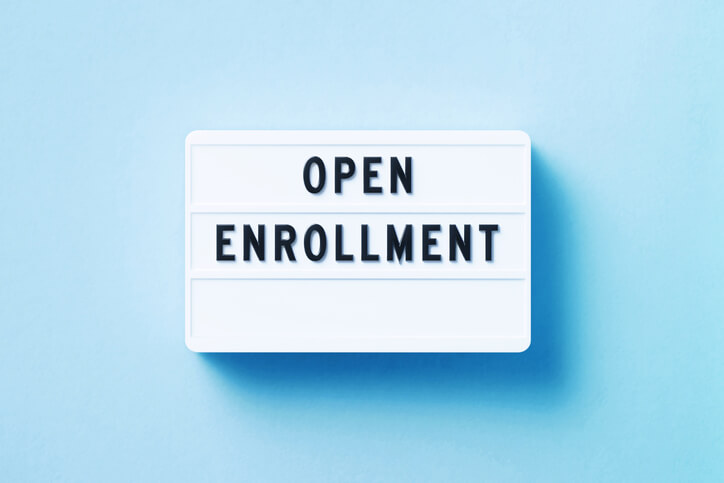 Open enrollment is the period when you can sign up for a health insurance plan for the next calendar year. Whether for a job-based plan or Medicare, missing the open enrollment window could leave you without coverage for an extended time, potentially resulting in expensive out-of-pocket costs. However, depending on your situation, you may be eligible to sign up for coverage past the open enrollment period.
I Missed Open Enrollment. What Should I Do?
If you missed the open enrollment window at your job, there are a few ways you may get insurance outside the standard enrollment window. Here are some options to explore:
Special Enrollment Period (SEP)
A special enrollment period is a designated time outside the regular open enrollment period where you can sign up for coverage, as long as you experienced a qualifying life event that changed your status for benefits. Some of these qualifying life events include:
Loss of existing health coverage
Changes in your family, such as marriage, divorce, birth of a child, and death of your parent, spouse, or guardian.
Changes in residence
Changes in work hours or job position that may affect insurance eligibility
Becoming a U.S. citizen
Medicaid/CHIP Health Coverage
If you experienced a decrease in income, you might be eligible to apply for coverage via the government's Medicaid and Children's Health Insurance Program (CHIP). Medicaid offers health coverage to low-income individuals, while CHIP provides coverage to children of low-income families. If you're below the income thresholds set by these government programs, you can apply any time during the year.
Short-Term Health Insurance
Some states offer short-term health insurance, a plan that provides an affordable way to get healthcare coverage for a certain amount of time, usually 30 to 364 days, depending on the state. To qualify, you must have experienced a loss in permanent coverage due to a layoff, job change, becoming a college student, or missing open enrollment.
How to Enroll in Medicare After Missing the Initial Enrollment Period
If you need to enroll in Medicare and missed the Initial Enrollment Period (IEP), you must sign up for coverage either during a Special Enrollment Period (SEP) or the General Enrollment Period (GEP). Here's some key information you need to know about these two periods:
Special Enrollment Period (SEP)
If you delayed enrollment because you had creditable job-based insurance, there's an eight-month SEP that allows you to enroll in Part A, B, C, and D without late penalties. Your SEP will start eight months after your job-based insurance ends, or you leave your job, whichever comes first.
If you have Medicare and wanted to make changes but couldn't due to a qualifying life event, you may be eligible for a two-month SEP in the following situations:
You live in an area impacted by an emergency or natural disaster
You move into or out of an institutional facility, such as a nursing home
You move out of your plan's service area
You gain or lose eligibility for a Special Needs Plan
You got certain types of misformation from your employers
General Enrollment Period (GEP)
The GEP occurs from January 1 through March 31 of every year. You can enroll in Medicare Part B during this period, and coverage will begin one month after enrollment. However, you will have to pay a premium penalty.
Can I Get Dental and Vision Coverage Outside the Medicare Open Enrollment Period?
Yes, you can still get dental and vision coverage outside the Medicare open enrollment period. You don't want to go without dental coverage because oral health can be linked to overall health and well-being. Several studies have associated gum diseases with other conditions and diseases, such as cardiovascular, respiratory, diabetes, adverse pregnancy outcomes, and breast cancer.
One way you can get dental coverage is through a private dental insurance carrier. These plans are available anytime throughout the year.
You may also want to consider a dental savings plan — an affordable alternative to dental insurance. With a dental savings plan, plan members can save10-60% on most dental procedures from a nationwide network of 140,000+ dentists. Additionally, dental savings plans offer quick activation with no annual limit, and no restrictions based on current health conditions.
Final Thoughts on Missing Open Enrollment for Medicare or Job-Based Insurance
Whether it's for Medicare or job-based insurance, missing open enrollment can be a costly mistake. However, there are opportunities to help you get the coverage you need outside the enrollment window. One of these ways is signing up for a dental savings plan, which can help you save on your dental needs, if you missed open enrollment.
Call us at 1-833-735-0399 if you want to discuss how a dental savings plan may assist with any troubles stemming from missing open enrollment. Dental savings plans provide quick activation, no annual limits, and no restrictions based on current health conditions.