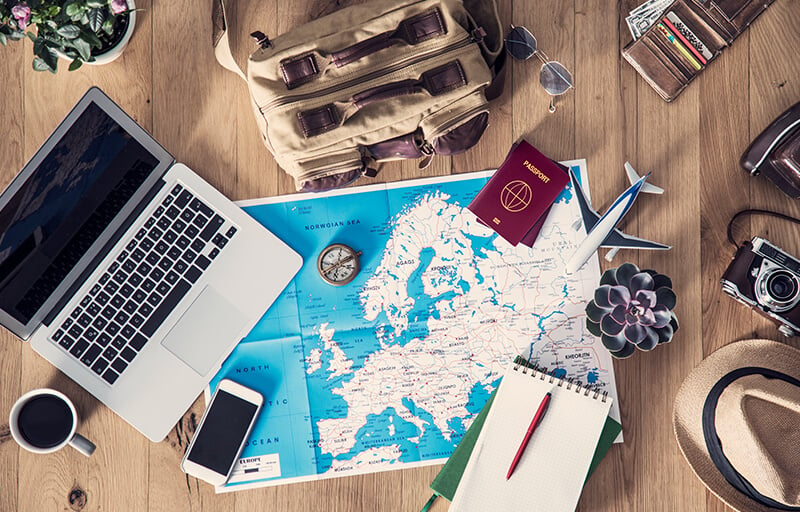 You need dental care, and you know need it as soon as possible. But your budget says you are going to have to wait months … or years – to get those crowns, implants, or set of dentures.
Thankfully, your choices aren't limited to walking around with a gap-toothed smile, or selling everything you own to raise the money to cover treatment costs. Dental insurance can help as can dental savings plans. And the adventurous might opt to head across a border – or across the nation - to get affordable care.
Here's a rundown of your options, along with their associated pros and cons.
Dental Tourism – International
Even if you have dental insurance or a dental savings plan, the cost of dental treatment can be amazing. About 1 million Americans each year address this challenge by heading to a country where health care costs are much lower – up to 75% lower, in some cases. Some have surgery, but many are travelling to get dental care. The most popular locations: Costa Rica, Mexico, and Hungary.
How much can you save? Here's a sample:
A single dental implant costs, on average, $3500 in the US. In Costa Rica, you'll pay around $950, Hungary about $800, and Mexico roughly $650.
The average cost of full Should I Travel For My Dental Care? in the US is $5,000. Head to Costa Rica and pay $850; in Mexico $950; in Hungary $1500. For a crown, expect to save about 50% on US prices in any of the three locations.
Most of the dental professionals you'll encounter in locations that have become epicenters of dental tourism will speak English. There are also companies that can help facilitate your dental tourism adventure, offering packages that include airfare, accommodations, dental care, and even trips to see the sights. That said, you may get a better deal booking all of this on your own, though you won't have the peace of mind that comes from knowing you have an informed advocate to count on.
For your initial research, excellent advice and planning tips can be had from Patients Beyond Borders, a publishing company focused on medical tourism issues.
Patients Beyond Borders suggests that people apply the $6,000 rule when deciding whether to travel for care or obtain it at home. If the total cost of treatment would be at least $6,000 more in the U.S., head for the border. If the difference is less than $6,000, get care at home. This doesn't apply to everyone – but it's a good rule of thumb.
This all sounds great, but you'll need to factor in the cost of flights and accommodations as well. If you can combine your dental care with a vacation, great. Also remember that some procedures will require more time than a standard two-week vacation, and in the case of treatments with phases – such as implants – you may need to return to the country several times. This is probably not an issue if you live near the border, or frequently travel to the country in question to visit friends and family anyway.
Also consider what you'll do if you need aftercare – a crown that breaks, a denture that needs adjustments. Will you travel back to the international dentist or will your own dentist be OK with doing any follow-ups? If you're counting on your own dentist, you may want to ask him or her sort of treatment documentation they'd like to receive from your international dentist.
Dental Tourism - Domestic
Those who live in large cities may find that traveling to less populous areas can net savings on dental care. A porcelain crown in New York City will cost $2219.47- $2808.48, head to Miami and get the same crown for $1019.62- $1290.14, along with a seashore holiday. In Louisville, Kentucky that crown will cost just $889.98- $1126.09. You can run your own comparisons here. Obviously, domestic dental tourism isn't for you if you love your current dentist, but can be a viable option otherwise. Just be aware that some areas of the country don't have enough dentists to meet the needs of locals, so choose your location wisely. You may also want to see if your dental insurance covers you outside of your home state or check on the dentists available elsewhere who accept your dental savings plan
Dental Insurance
If you're considering drastic action like heading to another country to obtain dental care, chances are you either don't have insurance or your benefits won't cover the bill.
If you don't have insurance, and need care now, you may wish to explore other options to finance your care. Buying a policy now will probably not provide coverage for a costly treatment that you need immediately – you'll likely have to wait six months to a year before the insurance company will cover things like crowns, dentures or other restorative procedures. Some insurers, such as Cigna, will waive the waiting period if you've had consistent dental insurance coverage until very recently.
Many policies also do not cover treatments to restore teeth that are already missing when you purchased the policy.
What insurance can do, if you already have it, is cover a portion of your bill. You may also be able to take advantage of the rates your insurance company negotiated with its dental network.
And some people have been able to spread treatment out over two or three years, by working with their dentist to schedule treatment and billing times in accordance with the annual maximum payable on a patient's insurance plan. For example, you might have dental extractions done late in the year, and then get your bridge or dentures at the very beginning of the next year.
It's also possible to coordinate treatment between insurance coverage and a dental savings plan
Dental Savings Plans
A dental savings plan, such as the ones offered on dentalplans.com, can help you cover the costs of dental care. Unlike dental insurance, dental savings plans don't require a waiting period for obtaining care for pre- existing conditions. There is no annual limit – members of a savings plan can use their plan as often as they like. The only potential drawback is that you do have to pay the discounted rate directly to the dentist – similar to the co-pays associated with traditional dental insurance.
Some people find that a dental insurance policy and a savings plan are a perfect match for their dental care needs. There are insurance policy rules about combining bills, so check with your dentist's office manager to ensure you're doing things right. Usually people will utilize a savings plan when they hit their annual cap on their dental insurance, or will use their savings plan to get the care that isn't covered by their insurance, while relying on their dental insurance for basic maintenance and simple procedures such as fillings, x-rays and checkups. Or parents may opt to get dental insurance for their children, and utilize a dental savings plan for their own needs.
But I'm Broke, and I Really Need Dental Care
Talk to your dentist to see if he or she can offer you a payment plan or if there is a financing company that they work with to help patients who are in a cash bind. Do check the terms of any loan or health credit card deal carefully, and make sure you understand how much you have to pay back (calculate the interest) and how long you have to repay.

Other options include a short term loan through your bank or credit union (the latter tend to be more willing to make loans to their customers), a personal loan from family and friends, or seeking care in a free/low cost clinic or dental training school.