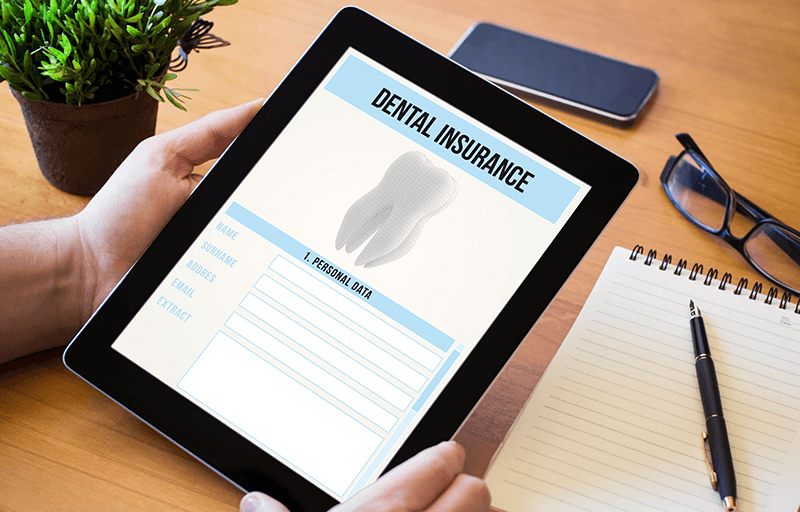 Choosing a dental insurance plan is harder than it should be. It can be challenging to understand how dental insurance can actually save you money. And it's all too easy to be surprised by what your insurance does and doesn't cover – and when you're actually covered for what dental treatments. Typically, these unpleasant surprises happen at the worst possible time, when you're sitting in the dentist's office in urgent need of dental care.
Knowing what to look for when reviewing a dental insurance plan helps you choose the right plan for you. The price of dental insurance doesn't vary widely, so don't focus on the plan's cost or its deductible amount. Instead look for information on:
Waiting periods: how long do you have to wait before you are actually covered for specific treatments? This really matters if you need restorative care ASAP.
Restrictions/exceptions/exclusions: if you have existing dental problems, will they be covered?
Annual maximum: Will the costs covered by the dental insurance plan come close to meeting your anticipated dental bills for the year?
Coverage details: if you need or want a specific procedure, does the plan cover it?
Company offering the plan: Does the company have a good reputation? Are people who purchased dental insurance from the company happy with their coverage, and the customer service? Check online reviews.
Below you'll find an overview of the top dental insurance companies, along with some details on the plans they offer. You'll also find a short glossary of dental insurance terms, and some tips on choosing a dental plan that will help you save money on dental care.
Use Our Savings Calculator & See How Much You Will Save
With a Dental Savings Plan.
Dentists recommend 2 cleanings, 2 check-ups and 1 set of x-rays per year. We're so confident that your plan will pay for itself*, we will refund your money if it doesn't. Some exclusions apply
Top Dental Insurance Companies
AARP Dental Insurance
Dental Insurance and Dental Savings Plans? No – insurance only.
Members of The American Association of Retired Persons can purchase AARP dental plans administered by Delta Dental. The two AARP plans features comprehensive coverage that is focused on the dental care needs of older people – for example; three cleanings a year as opposed to the more usual two. AARP plans also provide good coverage for crowns, bridges, dental implants and denture needs. But there is a one-year waiting period before you are covered for these services. The network of participating providers is large, and you can see out-of-network providers as well. Since the plan does offer a broad range of coverage for the more expensive treatments, premiums tend to be a bit higher than average. But if your dental needs are a bit more complex than just simple checkups and cleanings, this plan is worth checking out if you are an AARP member.
Aetna Dental Insurance
Dental Insurance and Dental Savings Plans? Yes
Aetna primarily offers group dental insurance through employers, but you can purchase dental insurance directly from the company if you live in specific states (Alaska, Arizona, Delaware, Illinois and Pennsylvania). Aetna offers an Aetna PPO Plus and Aetna PPO plan. Plan details may vary according to state, so it's best to visit Aetna's website to review options.
Aetna also provides dental savings plans, an affordable alternative to traditional dental insurance. With dental discount plans there is no annual limit on how often you can save with a plan, and no waiting before you can utilize the discounts. Members of Aetna Vital Dental Savings℠ Plus Rx save an average of 15-50% on most dental services including cleanings, X-rays, root canals, crowns, dentures, dental implants, and braces. The plan provides discounts on both general dental care and specialist care from over 161,000 participating dentists. Members also get – for free – additional savings on vision, hearing and prescription medications. with this plan. Other excellent dental plan options from Aetna include Aetna Vital Dental Savings℠ and Aetna Dental Access® plans.
Aflac Dental Insurance
Overview: Aflac's dental insurance plan is reasonably priced, and enables you to visit any dentist. You pay the dentist in full and are later reimbursed a flat fee depending on the treatment you received. Note that there are long waiting periods associated with many of the procedures covered by this plan.
Dental Insurance and Dental Savings Plans? No, just insurance
Unlike many dental insurance plans Aflac's Dental Direct dental insurance allows you to choose any dentist, and includes orthodontic and cosmetic options (check plan details for specifics.) There are three plans available: Basic, Standard and Premier. With Aflac dental insurance, you pay the dentist of your choice and are then reimbursed a set fee directly from Aflac. The amount of the reimbursement depends on which of the three plans you chose – Premier has the highest reimbursement fees. Be aware that there are waiting periods ranging from three months (filling) to one year (crowns) for most covered procedures, as well as a two-year waiting period for tooth restoration treatments such as dentures. Aflac dental insurance is well-suited for self-employed people or small businesses who may also be interested in the company's other insurance offerings such as short-term disability insurance. Visit the company's website for details.
Cigna Dental Insurance
Overview: Cigna dental insurance offers a wide variety of dental plan options, making it easy to choose an affordable plan that's right for you. There are, as is typical with insurance, waiting periods for many treatments covered by Cigna insurance plans. Cigna may waive the waiting periods if you were recently covered by another dental insurance plan.
Dental Insurance and Dental Savings Plans? Yes
Cigna offers both individual dental insurance and dental savings plans. People with healthy teeth and gums may wish to look at the Cigna Dental Preventive plan, which covers 100% of in-network diagnostic and preventive services with no annual maximum or deductible. Cigna also offers Cigna Dental 1000 ($1000 annual coverage, $50 individual/$150 family deductible) and Cigna Dental 1500 (($1500 annual coverage, $50 individual/$150 family deductible). Coverage includes preventive, diagnostic and restorative services. The 1500 plan has a $1,000 one-time benefit specifically for use with orthodontic treatment. There are, as is typical with insurance, waiting periods of 6-12 months for many treatments. But Cigna may waive the waiting periods if you were recently covered by another, comparable dental insurance plan.
Cigna's dental savings plans offer excellent discounts on dental care. The CIGNAPlus Savings plan gives members average savings of 37% on most dental services including braces, cleanings, x-rays, root canals, crowns, dentures, and dental implants. Discounts are available at both general dentists and specialists. And the CIGNAPlus Savings plan includes additional savings on vision, hearing, and wellness services. Preferred Network Access By Cigna provides dental discounts only, making it a good choice if you have excellent health insurance.
Delta Dental Insurance
Dental Insurance and Dental Savings Plans? Yes
Delta Dental and its affiliates (see AARP above) provide dental insurance plans to nearly 30% of all Americans. Delta Dental has a well-deserved reputation for offering excellent value in its dental insurance plans. The company also does a great job of communicating the details of its plans clearly and providing useful online account management tools. With plans that provide savings for people who only need basic dental care as well as those who require more complex procedures, and a choice between HMO and PPO coverage, Delta provides a wide variety of excellent dental insurance options, and plan specifics vary so check waiting periods, exclusions and annual maximums. A great choice for dental insurance.
Delta also offers dental savings plans, including Delta Dental Patient Direct and Delta Dental Illinois, as well as dental savings plans for residents in other states. Delta's dental savings plans save members an average of 10-50% on most dental services through a network of participating dentists.
MetLife
Dental Insurance and Dental Savings Plans? No, just insurance
MetLife focuses primarily on dental insurance for businesses, providing dental benefits for over 20 million people, but their TakeAlong Dental insurance plan is available for individuals. TakeAlong Dental savings for in-network dental care average 36% below the average dental fees in the same area. TakeAlong Dental covers hundreds of services/procedures, including cleanings, x-rays, fillings, sealants, root canals, crowns, and orthodontics. The waiting period for treatments beyond basic preventive care range from six months to one year, which is typical for dental insurance plans. If you currently have comparable dental coverage that has been in effect for at least 12 months, you may qualify to have the waiting period waived. MetLife currently has a PPO plan, but the company says an HMO offering is in the works. A solid choice for dental insurance.
Renaissance Dental Insurance
Dental Insurance and Dental Savings Plans? No, just insurance
The Renaissance Family of Companies collectively provides dental coverage for more than 13.1 million people, paying out $3 billion for dental care annually. Renaissance Dental insurance plans include Renaissance Dental's Max Choice Plan, Max Choice Plus, and the Renaissance Dental Plan III. The Renaissance Dental Plan III provides 100% coverage for diagnostic and preventive services when you see an in-network dentist, and covers 50% of the cost of crowns, bridges, fillings, root canals and dentures, and other major dental procedures (after the plan deductible is met). Renaissance offers strong options for people with generally good dental health who still need more than a basic preventive dental insurance plan.
Solstice
Dental Insurance and Dental Savings Plans? Yes
Solstice provides dental and vision insurance coverage to more than 700,000 people across the nation. They offer dental insurance and dental savings plans to residents of select states (Connecticut, Florida, Georgia, New Jersey and New York). Solstice dental insurance offerings include DHMO, DPPO, and fee-for-service plans. A great choice if you live in one of the states that Solstice serves.
Solstice's dental savings plans that provide significant discounts on dental care from dentists that participate in Solstice's "Open Access" network – the largest network of its kind. Open Access means that plan members don't need to pre-select a dental care provider (also known as "primary care dentist") and can switch providers as many times as they choose to do so.
Among the highlights of Solstice's offerings for individuals, families and groups is the Solstice Plus Plan One, a comprehensive dental savings plan that's affordable, simple to use, and is proven to provide overall lower out of pocket costs for members. Solstice Plus Plan One includes discounts on virtually all preventive and restorative treatments, as well as orthodontics (braces) and cosmetic dental care (such as teeth whitening, bonding and veneers). Solstice Plus Plan One also includes a free discount prescription drug plan with savings on more than 99% of all commonly prescribed medications.
United Healthcare Dental Insurance
Dental Insurance and Dental Savings Plans? No, just insurance
As you'd expect from a large healthcare policy provider, United Healthcare offers good choices in dental insurance plans making it easy to find the right plan for your needs – such as a plan that offers 100% preventative care coverage to low-cost copay plans. United Healthcare dental insurance also has a large network of dentists nationwide. United Healthcare Dental insurance does not cover all pre-existing conditions (such as restorative care for teeth that were missing before you purchased United HealthCare dental insurance), and has long waiting periods before you can access coverage for basic treatments such as fillings and extractions. Additionally, United HealthCare Dental Insurance does not cover major treatments such as root canals and crowns for one year after plan purchase. There are also restrictions on how often you can get major treatments. Given the waiting times and restrictions associated with this insurance, it could be a good choice for people who enjoy excellent dental health.
Frequently Asked Questions About Dental Insurance
How much does dental insurance cost?
An individual dental insurance policy costs about $350 a year. For a family plan, the typical cost is around $550, annually.
What is the difference between HMO and PPO Dental Insurance?

A dental HMO plan (also known as a DHMO) costs less to purchase but you must see an in-network dentist. There are no waiting periods or annual maximums, but there may be limits on how often or how quickly you can access dental care.
A dental PPO plan (also known as a DPPO) costs a bit more but is widely accepted at dental practices nationwide. You have more freedom and flexibility with PPO plan, but also will have an annual maximum spending limit and waiting periods before you are covered for some types of dental care.
What is a …
Annual maximum: The amount your insurance will cover annually, typically $1,000-$1,500 a
Coinsurance: A percentage of the cost of a dental service that you pay out-of-pocket
Copay: A flat fee you pay for a dental service covered by insurance
Deductible: The amount you pay out-of-pocket before your coverage begins
In-network: Dentists who have a contract with your insurance company
Premium: The amount you pay each month for dental insurance
Pre-existing conditions: any dental problems that you had before getting insurance.
Waiting period: The length of time that must pass before basic and major dental procedures are covered by your plan
How can I get affordable dental care right now?
If you have dental health issues that need immediate treatment or will cost more than $1,000 to address, you may want to consider an alternative such as a dental savings plan. Dental savings plans can be used immediately to save 10%-60% (depending on the plan chosen and the needed treatments) on dental care from thousands of participating providers. You can use a dental savings plan as often as needed, and the majority of plans activate within 72 hours (many within 24 hours of joining).
To learn more about dental insurance – and alternative options designed to make dental care more affordable – give us a call today!