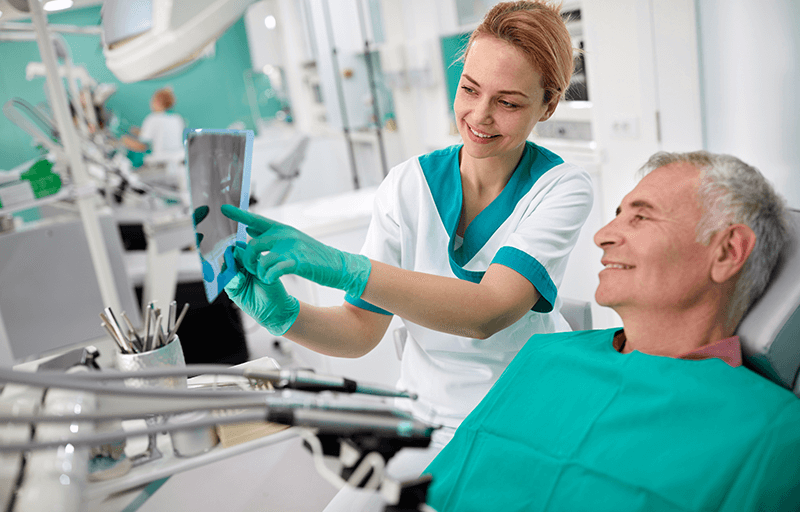 The American Association of Retired Persons (AARP) provides its members with access to three members-only dental insurance plans. These plans are administered by Delta Dental Insurance Company, and were designed to meet the typical dental care needs of people aged 50+, although the plans also offer excellent coverage for plan members' eligible dependents.
AARP's dental plans feature very comprehensive coverage, and the slightly higher-than-average cost of the plans reflect this. These plans are a solid choice for those whose dental care needs extend beyond regular cleanings and checkups.
Is AARP Dental Insurance Coverage Worth It?
AARP offers a choice of three dental insurance plans. Two are DPPO (Dental Preferred Provider Organization) plans, and the other, DeltaCare USA, is called a "Prepaid Plan." DeltaCare USA is very similar to a typical DHMO (Dental Health Maintenance Organization) plan.
AARP Prepaid Plan
You pay much less for a DeltaCare USA plan (about half the cost, but see the complete cost breakdown below), and there is no waiting period, annual deductible or annual spending limit. It's a copay plan, which means you pay a flat fee to the dentist – with a coinsurance plan, you'd pay a percentage of the cost of treatment.
Like DHMO plans, DeltaCare USA has distinct advantages, but is also less flexible than a DPPO plan.
For example, you have to see an assigned dentist from the DeltaCare USA Contract Dentists network. To change your dentist, you must call customer service, and the switch would be valid the following month. If you want to see a specialist, you will need to get a referral from your primary dentist, and then approval from Delta Dental.
Dental emergency? If it's after business hours, and your dentist and Delta Dental customer care are unavailable, you're only covered for $100 for treatment specifically to address dental pain. Otherwise, you'll need to wait until you can reach someone at Delta Dental to get approval to see another dentist.
AARP DPPO Plans
DPPO plans, including both AARP plans, are widely accepted at dental practices nationwide. Plan members will save more when they see in-network dentists, but can choose to go out-of-network. There is no referral required to see a specialist.
AARP offers two DPPO plans, called Plan A and Plan B. Covered benefits, waiting periods and most other aspects of the plan are identical. Plan A is more expensive (see cost breakdown below) but has a higher annual maximum and a lower deductible.
The deductible is what you pay out of pocket every year before your coverage begins, and the annual limit is the amount of dental costs that you're covered for. Once you reach the limit, you pay out of pocket for the rest of the year.
AARP's DPPO Plan A has a deductible of $50 and an annual limit of $1500, Plan B has a $100 deductible, and an annual limit of $1000.

How much does a AARP Dental Plan cost?
Plan prices vary, check the AARP dental insurance page for specifics of plans available near you. But as an example, in Florida, zip code 33135 (Miami):
| | | | |
| --- | --- | --- | --- |
| | AARP DMHO | AARP DPPO A | AARP DPPO B |
| Individual | $32.72 a month | $72.10 | $48.87 |
| Two People | $53.40 | $142.49 | $96.14 |
| Family | $78.59 | $216.67 | $136.61 |
At least one enrolled family member must be an active AARP member to qualify for any of the AARP dental insurance plans (including the Prepaid option). Coverage is offered for Individuals, an individual plus one eligible dependent (spouse or domestic partner, or an unmarried dependent child aged 26 or under), or a Family. A "dependent child" can include unmarried grandchildren, stepchildren, adopted children and foster children.
What does a AARP Dental plan cover?
Coverage varies according to the type of plan you choose, and there may be variances in the plans offered in your state. In general, though AARP's basic, preventive and restorative dental coverage is very comprehensive.
If you opt for a DPPO plan, basic and preventive are covered as soon as you meet your deductible. There is, however, a 12-month waiting period before you are covered for restorative care, which includes crowns, inlays and onlays, bridges, dentures, dental implants, Periodontics treatment (for gum disease) or treatment for Temporomandibular Joint Dysfunction (TMJD). The waiting period is enforced even if you have had continuous dental coverage from another provider. And if you switch to another AARP DPPO plan, your waiting period begins again.
With the Prepaid plan, as noted above, there is no waiting period. Basic, preventive and restorative care (as well as orthodontics/braces) are covered right from the start. Depending on when you enroll, your plan may not activate for over a month though. For example, joining after the 21st of August means your plan doesn't activate until October.
It is very important to carefully review plan documentation, specifically the "Certificate of Coverage," "Limitations and Exclusions," and "Plan Brochure" associated with any dental insurance plan before you make a purchase. AARP does a great job of making this information readily available at the bottom of each plan page on the Delta Dental website. The information provided above is a synopsis, and should not be used to make a purchasing decision without carefully reviewing all plan documentation.
You can also see what dentists near you are in the plans' networks, something that you should check prior to purchasing. You can see reviews of the dentists on social media just by clicking the "number of dentists near you" option. Checking reviews is especially critical if you're choosing the Prepaid plan option, since the Prepaid network is smaller than the DPPO one, and Prepaid members must see an in-network dentist.

What Discounts Do I Get with AARP Dental Insurance?
With an AARP DPPO plan you pay a percentage of the dentist's network negotiated rate:
| | |
| --- | --- |
| Procedure | Your cost |
| Exams and x-rays | Free with Plan A, 20% with Plan B |
| Cleaning | Free with Plan A, 20% with Plan B (3x annually) |
| Fillings | 20% of the in-network dentist's fee |
| Root canals | 50% |
| Tooth removal | 50% |
| Implants | 50% (after 1 year) |
| Crowns | 50% (after 1 year) |
| Complete dentures | 50% (after 1 year) |
| TMJD Treatment | 50% (after 1 year) |
Orthodontics are not covered by either AARP DPPO plan. AARP's Prepaid plan covers orthodontics.
With AARP's Prepaid plan you pay a flat fee to your Contract Dentist. The complete list of fees is available on the AARP plan site. Below are sample fees for treatment in the 10025 zip code (NYC).
| | |
| --- | --- |
| Procedure | Your cost |
| Exams and x-rays | $0 |
| Cleaning | $5 (2x annually) |
| Filling | $65 |
| Root Canal | $365 |
| Crown | $395 |
| Complete dentures | $365 |
| TMJD Treatment | Not covered |
| Orthodontics | $2,100 (24-month treatment) |
Dental Discounts – Better than AARP?
AARP's Prepaid plan offers excellent savings on dental, making it a good choice if you are comfortable with the restrictions and happy with the dentists who accept the plan near you.
It's difficult to beat the savings offered by AARP's DPPO plans, the coverage is extensive and the savings are significant. The only areas that might cause concern is the extended waiting period for restorative care, the annual limit and the relatively high cost of the plans.
If you don't want to or can't wait for dental care, you can opt instead to join a dental savings plan. These plans are an alternative to traditional dental insurance. You get discounts of 10%-60% on your dental care (the percentage varies according to procedure and the plan you join). You could use your dental savings plan to reduce the cost of restorative care within 72 hours of purchasing the plan. You pay the discounted rate directly to any of the 100,000+ participating dentists nationwide.
And there are no annual limits with a dental discount plan. The average yearly cost of a dental savings plan is $99 for an individual and $199 for a family. Yes, that's the annual cost – not the monthly cost!
Find out more about the advantages of dental discount plans for seniors!