Aetna Dental Access® plan provides members with, in most instances, 15-50%* per visit savings on dental procedures at more than 213,000** available dental locations nationwide through one of the largest dental savings networks. There is no limit to how many times you can use the dental savings plan to save at the dentist—use your card over and over again to keep your teeth sparkling clean!
This plan has some great perks.
Save 15-50%
Save on cleanings, x-rays, root canals, dentures, and more
Orthodontics savings
Adults and children can save on ortho treatments, such as braces
Cosmetic savings
Save on cosmetic work such as implants, teeth whitening, veneers, and more
No annual limits
No limit on how much you can use your plan or how much you can save each year
Quick activation
Start saving the day your plan activates, even on major procedures
No restrictions
No exclusions based on current dental conditions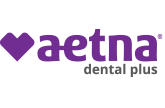 Upgrade to Aetna Vital Dental Savings℠ Plus for even more smiles
Additional Benefits
Vision
Hearing
Prescription
Access to Aetna Navigator Portal for Additional Savings
Let's look at what this plan includes.