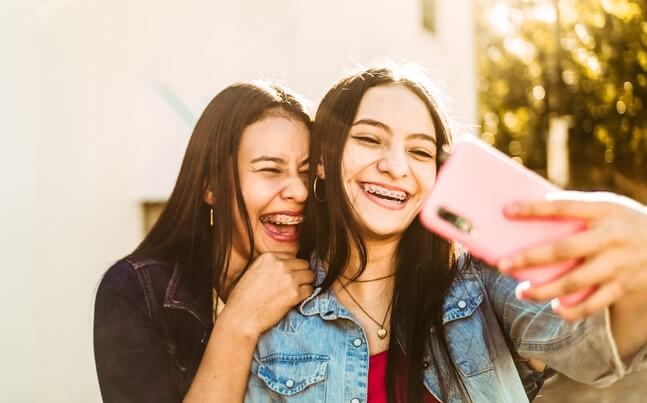 Key takeaways:
Typical cost for under-18 orthodontic treatment is $6000, for adults $7,000.
Dental savings plans offer deep discounts (20%-25%) on the cost of orthodontics. Select dental savings plans can reduce the cost of braces by 39-48%.
Dental insurance may have a separate, lifetime limit for orthodontia – often $1,500 for each eligible member of the plan. This does not reset at the end of the plan year.
Dental insurance typically will partially cover the costs of braces for children under the age of 18. Adult orthodontics coverage is typically not included in dental insurance.
Sometimes the purpose of orthodontic treatment is to produce a more attractive smile. But for many people, braces result in a healthier mouth. According to the American Dental Association (ADA), orthodontic treatment helps to prevent:
Tooth decay
Gum disease
Tooth loss
Difficulty in speaking clearly
Difficulty in chewing properly
Abnormal wear to tooth enamel
Jaw problems
What do braces cost?
The cost of orthodontic treatment varies according to what type of braces are used and the complexity of the orthodontic issue. Children's treatment plans tend to require less time to complete than those for adults, which can increase the cost of treatment.
Metal braces (traditional braces) cost $3,000 – $7,000.
Ceramic braces, which blend with the color of teeth with only a thin metal wire visible, cost $4,000 -$8,000.
Invisalign® aligners, clear plastic devices that fit over teeth and can be removed temporarily when the wearer chooses, cost $4,000 – $7,400.
Lingual braces, which are made of metal but are bonded to the inside surface of teeth making them virtually invisible when the wearer smiles, cost $8,000 – $10,000.
In addition to the prices above, there may be additional costs to prepare your teeth for braces. These treatments include X-rays, and may include fillings, cleanings, and – primarily for adults – extractions to open the space required for teeth to move into their desired new position.
Braces often need to be adjusted, typically once a month or so over a two-year period. Newer types of braces may require less frequent adjustments. After braces are removed, people will typically need to wear a retainer at night to keep your teeth from returning to their original position.
Dental insurance that covers braces
Dental insurance may partially cover the costs of braces for children under the age of 18. Adults are typically not covered, but a few insurance providers are now offering orthodontia benefits for plan members of every age.
Be aware that traditional insurance is that it tends to offer extremely limited coverage for orthodontic treatment. Dental insurance typically covers orthodontics up to a lifetime maximum of $1,500 (and often less – average maximum ranges from $500-$1,000) for each eligible member of the plan (but check plan details, as the policy may not cover multiple people). There may also be a waiting period of six months to a year after purchasing a plan before orthodontics coverage is available.
While this limited coverage can be a concern, insurance plan providers probably have negotiated lower rates with dentists/orthodontists in their networks. Even if the plan doesn't cover much of the cost of braces, you may benefit from getting a lower rate overall. Check your policy details, and ask your dentist about anything you don't understand.
Dental savings plans for orthodontic treatment
Dental savings plans make orthodontics truly affordable. Many of the plans on DentalPlans.com offer savings of 20%-25% on orthodontics, and some plans offer savings of 39-48% on braces.
Dental savings plans are often the best choice for reducing the cost of orthodontic treatment because unlike insurance, dental savings plans have no annual limit. A plan member can use their plan to reduce their costs at the dentist as often as they wish. This is a significant difference when compared to insurance, which typically imposes a $1,000 to $1,500 lifetime cap on coverage for orthodontics.
And many dental savings plans do offer orthodontics savings to adults as well as children.
Affordable Braces and Dental Care
Besides helping to reduce the cost of orthodontic care, dental savings plan can reduce the cost of the majority of dental treatments, including procedures that insurance doesn't often cover like cosmetic dental care and dental implants. Plan members report average savings of 50%* on their dental care.
Whether you want a dental savings plan that focuses on delivering significant savings on orthodontic treatment, or one that offers cost reductions on a wide range of dental treatments, you can find it at DentalPlans.com, the largest dental savings plan marketplace. With more than 25 plans from trusted brands in healthcare, and the best customer service team in the business, we make it easy to find the plan that fits your specific needs. Call us at 1-833-735-0399 with any questions or to receive a personalized plan recommendation.
Want to know right now how much you can save on braces with a dental savings plan? No problem – just use the calculator below.
*Discount Health Program consumer and provider surveys indicate average savings of 50%. Savings may vary by provider, location, and plan.  

All cost averages obtained from the DentalPlans.com procedure search tool, and independent research.