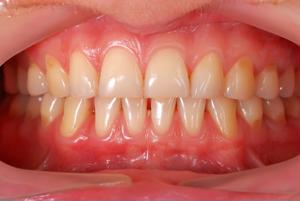 People who have sensitive teeth may have a hard time maintaining their dental health, since their pearly whites are often in pain. Recently, Fox News 31, a Colorado news source, spoke to Daniel Wilson, D.D.S., of the University of Colorado, who explained that having sensitive teeth is something that almost everybody experiences at some point during their lives. However, that doesn't mean they have to put up with it.
The expert recommended that people who experience sensitive teeth should avoid eating or drinking very hot or cold beverages and foods for a few days to see if it goes away. If it doesn't, then they should head to their dentist as soon as possible.
"You need to rule out things like cavities [and] defective restoration cracks in the teeth [as causes of tooth sensitivity]," Wilson told Fox News 31.
Discovery Health suggests that people with sensitive teeth try using a fluoride rinse once a day, because this may help strengthen and protect the teeth. Furthermore, people should quit chewing tobacco if that is something they usually indulge in, since that may be the cause of their sensitive teeth.
© 2013 Brafton Inc.