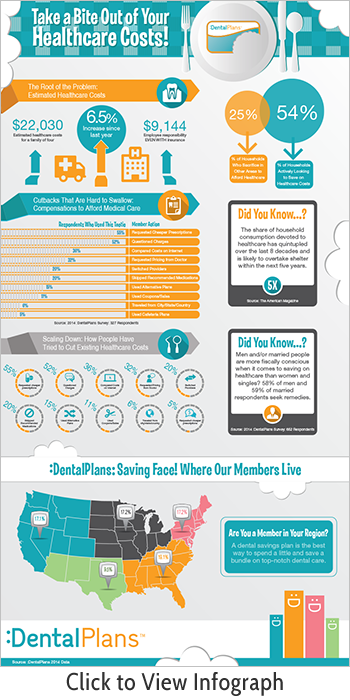 A typical family of four paid an estimated $9,144 in out of pocket health costs according to The Milliman Medical Index. And medical costs continue to climb and consume more of the family budget, leaving struggling families looking for ways to save. The :DP SmileMeter™, a national survey conducted in July 2014 found that 25 percent of people have cut out other areas of their budget to better afford healthcare services.* **
"We are here to provide affordable solutions for dental care so that families don't have to make the difficult choice of 'if' they can afford dental care for their family but rather which plan will best accommodate their needs," states Bill Chase, :DentalPlans' VP of Marketing. "Dental savings plans provide choices and an easy solution for adults, families, and seniors to get the care they need, to keep their healthy smile."
According to the :DentalPlans survey, more than half the respondents (54 percent) have taken some action to save money on healthcare costs. Of those, more than half (55 percent) have asked for cheaper prescriptions and 52 percent have questioned charges on medical bills. Almost one-third or more have used the Internet to compare costs, questioned bills or requested pricing within a healthcare setting. High prices have driven some to delay filling prescriptions and switch providers to the tune of 20 percent. Expenses have even driven 5 percent offshore to seek care beyond our borders.
And although women are typically thought of as the "bargain shoppers," in the survey 60 percent of men identified themselves as actively seeking ways to save money on healthcare and services. Another 15 percent have purchased supplemental plans to save money, like those offered from :DentalPlans. Dental savings plans provide programs that help individuals, families, and groups save on their dental care and other health-related services, for one low annual membership fee. The benefits of a dental savings plan include savings of 10 to 60 percent off what you would pay out-of-pocket or without a savings plan or dental insurance, no waiting to use your plan, no forms to file, no limit on how often you can use your plan, and offer an open enrollment all year long.
*A national study was conducted for :DentalPlans between July 7th and 10th, 2014 by Infosurv Research. A total of 1,214 consumers were surveyed, yielding data with a margin of error of +/- 2.7%.
** The :DP SmileMeter™ is an ongoing national survey conducted for :DentalPlans designed to gauge consumer thoughts and perceptions on the dental health.
About :DentalPlans
:DentalPlans, founded in 1999, is the largest dental savings plan marketplace in the USA, offering consumers access to 40+ dental savings plans from trusted healthcare brands, like Aetna, Careington, Signature Wellness, and UNI-CARE. Plan members have access to more than 100,000 dentists nationwide.
:DentalPlans, which has been included in the INC. 5000 list for three years standing, is committed to making you smile by making access to quality oral healthcare affordable and available to everyone. Visit us at www.dentalplans.com and on Facebook at www.facebook.com/dentalplans.