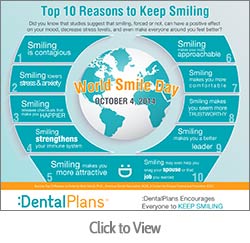 Scientists and doctors agree that the simple act of smiling can transform you and the world around you. October 4th is World Smile Day, so :DentalPlans encourages everyone to keep smiling today … and every day.
Science has proven that smiling relieves stress, lowers blood pressure, reduces pain, boosts your immune system, and improves your general sense of well-being.
"There is proof that when you smile at someone and they smile back in return, you are helping to create physiological changes in their bodies that may benefit them, as well as yourself," says Bill Chase, vice president of marketing for :DentalPlans.
Sadly, not all people are comfortable showing off their smile. According to a study by Oasis Dental Care, seventy percent of people with bad teeth say it's negatively affected their lives. A poorly maintained mouth is making fifteen percent of those polled feel depressed and is even stopping three percent from leaving the house. Ten percent of the people polled don't speak as much as they would if they had better teeth and seven percent say their love life has been negatively affected.*
Good oral health and smiling are fundamental to a person's wellbeing, but not everyone has dental insurance or can afford to pay out-of-pocket for dental services. So, what are your options? Dental Savings Plans can help individuals and families save money and stay healthy. For example,
Example savings:
Plan: Careington Care 500 Series**
Scenario: Two Adults and Two Dependent Children
Annual Family Membership Fee: $189.95
| | | | |
| --- | --- | --- | --- |
| | Typical Dentist Fee | Sample Discounted Fee | Total Savings |
| Routine 6 Month Check-up | $73/person | $19/person | $216 for four |
| Adult Teeth Cleaning | $122/adult | $39/adult | $166 for two |
| Child Teeth Cleaning | $84/child | $31/child | $106 for two |
| Four Bitewing X-Rays | $80/person | $26/person | $216 for four |
| Total Savings | | | $704** |
** Note: This plan is not insurance.
Using the Careington Care 500 Series plan, which costs a low annual fee of $189.95, a family of four could save $704 just on their annual ADA recommended treatments alone. That's $514 in savings, when including the cost of the plan. And the savings can really add up when considering additional dental care that may be needed for you and your family, like sealants for children's teeth, crowns, braces, and more.
"With :DentalPlans you know you are getting the best care for the lowest possible price," says Chase. "It makes us happy to help keep you and your family smiling."
* Source: ICM Research, April 2012.
About :DentalPlans
:DentalPlans, founded in 1999, is the largest dental savings plan marketplace in the USA, offering consumers access to 40+ dental savings plans from trusted healthcare brands, like Aetna, Careington, Signature Wellness, and UNI-CARE. Plan members have access to more than 100,000 dentists nationwide.
:DentalPlans, which has been included in the INC. 5000 list for three years standing, is committed to making you smile by making access to quality oral healthcare affordable and available to everyone. Visit us at www.dentalplans.com and on Facebook at www.facebook.com/dentalplans.