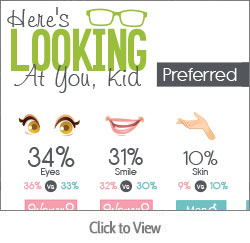 May is Healthy Vision Month, so celebrate by scheduling an eye exam for you and your family. Eye care is an important factor in maintaining our overall health. As you grow older, your eyesight gradually changes, with the most rapid development happening in the first two years of life and rapid declines happening later in life. With continual changes in our vision happening over our lifetime, it is important to have regular eye tests by a licensed ophthalmologist.
"In addition to dental savings plans, :DentalPlans offers vision savings plans and more comprehensive plans that include pharmaceutical, chiropractic, and even telemedicine," says Bill Chase, vice president of marketing for :DentalPlans, the leading provider of dental savings plans. "We believe in making truly affordable wellness care available to everyone."
:DentalPlans has the following tips for Healthy Vision Month:
Eye Care for Babies
Babies learn to see over time. Even before learning to sit up, crawl and talk, their eyes are providing information and stimulation important to their development. The American Optometric Association recommends that parents watch for early signs of eye and vision problems. Parents should seek professional eye care starting with the first comprehensive vision assessment at 6 months. They should also help their children develop their vision by engaging in age-appropriate activities like looking at picture books together to identify shapes and colors.
Eye Care for Children
During the first 12 years of life, up to 80 percent of our learning is visually based. Many children struggle at school unnecessarily because of eyesight related problems. Signs of visual difficulties include sitting very close to TV or computer screens, repeated rubbing of the eyes, frequent headaches, and squinting. If you notice any of these signs, an ophthalmologist should check the child's eyes as soon as possible.
Eye Care for Young Adults
The American Optometric Association recommends an eye test every two years from 19 to 40 years old. Most adults enjoy healthy eyes and good vision. However, if you notice any changes to your eyesight, how your eyes look, or how comfortable they feel, have them checked out before the two-year timeframe.
Good vision and healthy eyes are important as you pursue an education, a career, or a significant other. In fact, according to the national :DentalPlans SmileMeter™ survey*, 34 percent of national respondents selected the eyes as their preferred facial feature, bringing new meaning to, "The eyes are the window to your soul."
To help maintain healthy eyes, eat well, don't smoke, get regular exercise, wear sunglasses as needed to protect your eyes and don't forget to get your vision checked regularly.
Eye Care After 40
Around the age of 45, many people begin to notice a change in their ability to see. Close tasks may be harder to focus on, you may need more light to read, and you might get
headaches looking at a computer screen all day. This is normal and safeguarding your vision as you age through regular doctor visits can have a tremendous impact on your quality of life and overall health.
About :DentalPlans
:DentalPlans, founded in 1999, is a leading dental and health savings marketplace in the U.S., helping more than a million people to affordably access quality healthcare services. Our mission is to empower consumers with the tools, information, and services that they need to live happier, healthier lives.
We provide comprehensive resource centers aimed at helping people to maintain/regain optimal health, and successfully navigate the maze of healthcare payment options (including Obamacare and Medicaid.) Our independent research – the :DP SmileMeter™ and :DP SmileIndex™ – delivers a unique look into the consumer healthcare market. We offer user-friendly access to a wide selection of traditional dental insurance and 40+dental savings plans, along with innovative healthcare offerings including telemedicine, medical advocacy, and online counseling services. Our online plan comparison and savings calculator tools help consumers to make smart choices about essential healthcare services, and our :DP AtYourService™ customer support team leaves no question unanswered. For more information, visit us at www.dentalplans.com.