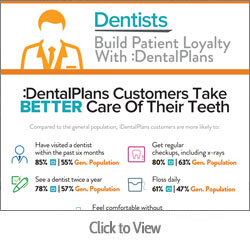 A new survey* has revealed a surprising way for dentists to increase patient loyalty--dental savings plans. According to the :DP SmileIndex™, an annual national survey from :DentalPlans, 52% of dental savings plan members are loyal to their dentists. Only 37% of the general population said the same.
"Dental practices work hard to build patient loyalty by delivering quality services and engaging with their patients. Our survey indicates that patients see dental savings plans as a great way for dentists to do both of these things: increase customer satisfaction and connect effectively with patients' needs," says Bill Chase, vice president of marketing for :DentalPlans.
The 2015 :DP SmileIndex survey, conducted for :DentalPlans by InfoSurv, also indicates that members of dental savings plans are proactive about maintaining their oral health, especially when compared to the general population:
They are more likely to have visited a dentist within the past six months (85% dental savings plan members vs. 55% of the general population).
They are more likely to have regular preventative care, especially X-rays (80% dental savings plan members vs. 63% of national sample).
They are more likely to know that seeing a dentist regularly is important (78% of dental savings plan members said that seeing a dentist twice a year is important, vs. 57% of the general population).
They make oral health care a priority within their families (55% of dental savings plan members started brushing their child's teeth before the child was a year old, compared to only 41% of national respondents).
Dental savings plan members and the general population overwhelmingly agreed on one key point: dental care is too expensive.
"Cost is the biggest reason people delay getting the dental care they need," says Dr. Howard Cunningham, owner of Oakland Park Dental in Ft. Lauderdale. "Our office accepts dental savings plans because it saves our patients money on dental care services, helps them maintain good oral health through preventative care, and get treatment right away for dental emergencies. Using a dental saving plan also simplifies the whole process. There are no worries about delayed payments to the office, and the patient can make choices about their treatment without any third party involvement. Dental plans provide a fair process for everyone involved."
To find out more about how dental savings plans can help dentists and their patients, visit http://www.dentalplans.com/dentist/providerportal.
* An independent study of its members was conducted for :DentalPlans between Jan. 21 and Feb. 4, 2015 by Infosurv Research. A total of 9,410 national customers were surveyed, yielding data with a margin of error of +/- .99%.
About :DentalPlans
:DentalPlans, founded in 1999, is a leading dental and health savings marketplace in the U.S., helping more than a million people to affordably access quality healthcare services. Our mission is to empower consumers with the tools, information, and services that they need to live happier, healthier lives.
We provide comprehensive resource centers aimed at helping people to maintain/regain optimal health, and successfully navigate the maze of healthcare payment options (including Obamacare and Medicaid.) Our independent research – the :DP SmileMeter™ and :DP SmileIndex™ – delivers a unique look into the consumer healthcare market.
We offer user-friendly access to a wide selection of traditional dental insurance and 40+dental savings plans, along with innovative healthcare offerings including telemedicine, medical advocacy, and online counseling services. Our online plan comparison and savings calculator tools help consumers to make smart choices about essential healthcare services, and our :DP AtYourService™ customer support team leaves no question unanswered. For more information, visit us at www.dentalplans.com and find us on Facebook, Twitter, Pinterest and YouTube.