It's obvious that the future of Obamacare is highly uncertain. If you purchase your healthcare insurance through the ACA Marketplaces, you may be wondering if your coverage will suddenly be canceled. Or you may be curious whether the financial penalties imposed on the uninsured will be in effect for much longer.
It is reasonable to expect that plans purchased during the current enrollment period will provide coverage through until January 2018. If you do want to purchase health and dental insurance through the Affordable Care Act (ACA) Marketplaces, time is running out. Those who still want to choose or change their healthcare plan for 2017 have until January 31 to do so.
The next Open Enrollment period is currently set for November 1, 2017 - January 31, 2018. But on Jan 4, the Senate voted in favor of taking the first official step toward repealing the ACA. This marked the beginning of what is likely to be a two or three-year process of overhauling, revising, tweaking or otherwise mucking around with Obamacare.
Will My Obamacare Coverage Continue?
ACA insurance you purchase now should remain in effect through January 1 2018, and Obamacare plans will probably be offered for 2018. Dismantling Obamacare is not something that is likely to happen quickly.
That said, it is becoming increasingly obvious that Obamacare – at least the insurance component - needs to be enhanced. No one would argue that Obamacare plans are a great deal for lower-income people and people with chronic medical conditions. But the advantages of high-cost, high deductible plans are far harder to justify for those who do not qualify for subsidies. The creators of Obamacare anticipated this, and created financial penalties ("mandates") intended to push people into buying insurance.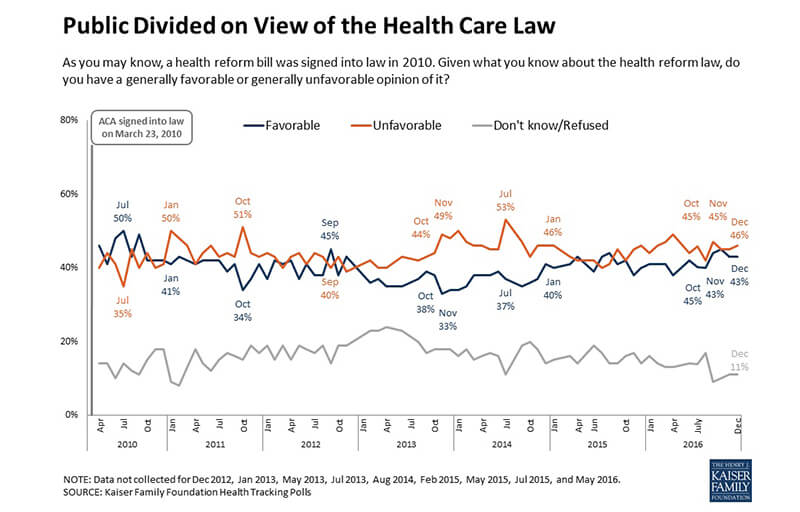 It is expected that those ACA mandates will be the first segments of Obamacare to get the axe. And with no way to enforce universal coverage (which spreads the risk across a pool of healthy/sick and younger/older people) it is likely that some insurance providers will pull out of the Federal and State ACA markets or demand dramatic rate raises again. President Obama had wanted to subsidize insurers as well as plan purchasers, but Republican lawmakers blocked this, claimed this would be a bailout for the insurance industry.
The Senate can also kill the federal subsidies that make ACA plans affordable for lower-income people, eliminate funding for Medicaid expansion and eliminate many Obamacare-related taxes. But without a replacement plan in place, this would result in a lot of unhappy Americans and an even more unstable insurance market. So repealing federal subsidies is highly unlikely to happen until there are alternatives in place. Even the most avid anti-ACA Republican does not want to leave millions of people without insurance. From a purely self-interest point of view, it would jeopardize their party during the midterm elections.
What's next for Obamacare?
The honest answer is that no one knows.
President-elect Trump has promised to enact "a beautiful new plan [for] much better healthcare at a much lower cost." He has also promised that "Everybody's got to be covered." But it will be difficult to cover everyone while keeping the parts of Obamacare that most people do like. The majority of Americans support guaranteed coverage for preexisting conditions, no lifetime maximum on coverage and the ability to keep kids on parent's insurance plans longer. Obamacare is so complex that many of us don't know how the law benefits us, we only see the parts we vehemently dislike.
Many of the Republican proposals under consideration include bringing back catastrophic insurance policies. Giving people who can't or won't buy Obamacare-compliant insurance plans the option of buying cheaper, less-comprehensive insurance seems sensible. These bare-bones plans would cost less than ACA-approved plans, as they don't provide coverage for preventative care, medications, mental health treatment or dental. For those who don't qualify for Obamacare subsidizes and who are paying out of pocket for their medical care, due to high insurance deductibles, a catastrophic plan might make sense.
Some of the alternative proposals also include guaranteed coverage for people with preexisting conditions, but only for those who have had "continuous coverage" for a period of time. Other options mentioned frequently by President-elect Trump are selling insurance across state lines and utilization of health savings accounts (HSA).
Dental Care and the ACA
Obamacare options for adult dental coverage are dismal, and it is highly unlikely this will change soon. For those who have not chosen their ACA plan for 2017, and want dental coverage, here are some issues to be aware of:
· You can't purchase just dental insurance on the ACA marketplaces – you must simultaneously purchase a health plan.
· If your health plan doesn't include dental, you can purchase a standalone plan. But if you do buy a standalone dental plan, you will not be eligible for a federal subsidy to reduce the dental plan's cost.
· A healthcare/dental bundle does qualify you for federal subsidies, but healthcare plans covering dental may have a large deductible that applies to dental as well as medical care. The average deductible is $5,731 for individuals and $11,601 for families, and you pay out of pocket for most dental care until you meet your deductible. Try to find a dental insurance plan that offers a separate, lower deductible for dental care.
· Orthodontic care, and other services like dentures and implants, may not be covered by every plan.
· Preventative dental care is covered at 100% - that means you get it for free- on Obamacare pediatric dental plans. But this coverage may be limited to the bare minimum of preventive care. Cleanings, x-rays and other basics are not legally required to be included if dental coverage is embedded in your health plan.
ACA coverage may not meet your dental care needs. Dental savings plans offer an affordable alternative to dental insurance. With a dental savings plan, you gain access to a network of dentists who have agreed to offer reduced rates to plan members – typically 10%-60% of the cost of virtually all dental care and treatments.
Making Healthcare Truly Affordable
In a poll released on January 6 by the Kaiser Family Foundation, the vast majority (67%) said their top priority is finding a way to lower their health care costs. Only 37% said repealing Obamacare was critical.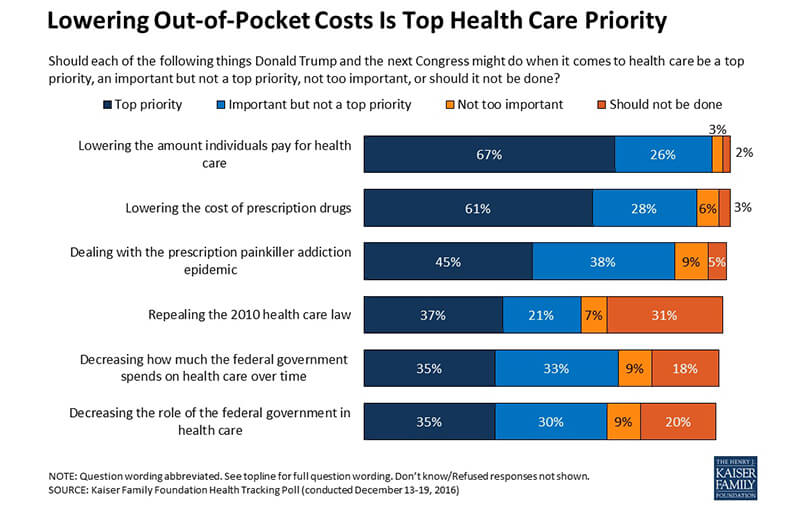 No one is expecting lawmakers to come up with a realistic plan to reduce care costs in the immediate future. Finding affordable ways to get the dental and healthcare services we all need is up to each individual. A good place to start is by finding out more about dental savings plans at dentalplans.com