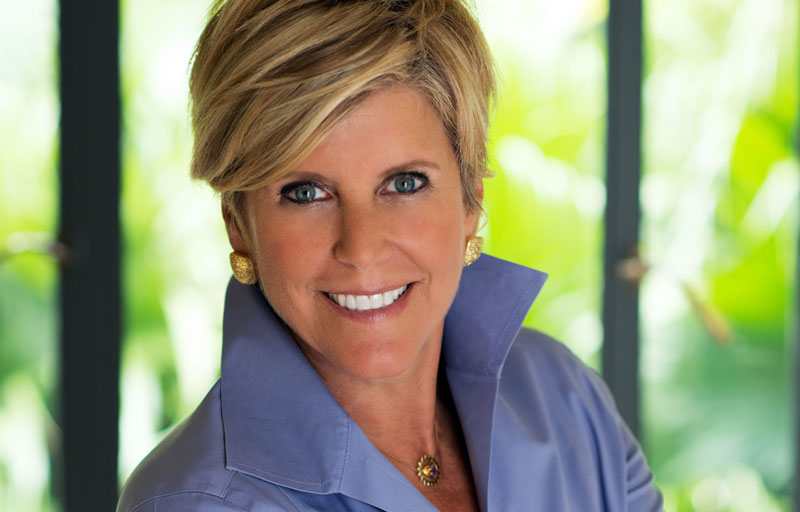 By Suze Orman
Turning the page and retiring from your full-time job can be incredibly exciting and rewarding. The last thing I want to get in the way of what is a deserved great stage of life, is money problems. Here are financial mistakes I don't want you to make as you head into retirement.
Don't…Get Super Conservative with your Portfolio. It is natural to think that you can't afford any risk with money you will be living on in retirement. But there's also a risk to keeping all your money in cash, which still barely earns anything. Over time, that can be a problem. And I want you to realize that even if you stop working at 60 or 65, the odds are you have a very good chance of still being alive at 85. That's a long time! When you're 65, keeping at least 30% of your portfolio invested in stocks will give you the potential for inflation-beating gains over the long-term, that cash can't deliver.
Don't…Tap Social Security Before You Reach Your Full Retirement Age. You are allowed to start taking your Social Security retirement benefit at age 62. But if you wait until your Full Retirement Age, your benefit will be 25% to 30% larger. Your FRA is somewhere between age 66 and 67; you can find yours at the Social Security website. And the ultimate smart move if you expect to live a long life, is to aim for the highest earner in your household to delay starting Social Security until age 70. The benefit at age 70 will be 24% higher than the benefit if you start at an FRA of 67.
Don't….Forget About RMDs! Once you turn 70 ½ the IRS insists that you make withdrawals from your retirement accounts, such as Traditional 401(k(s) and IRAs. Even if you don't need the money, you still must make the withdrawal because the IRS is eager to collect the income tax you owe. And here's the big issue: If you miss an RMD, the penalty can be 50% of what you were supposed to withdraw.
Don't…Stay in a Home You Can't Easily Afford. Look, I get that you may have an incredible emotional tie to your current home. But I want you to dig deep and think 10 or 15 years out. Is this a house an older you can easily get around? And can you easily handle the ongoing property tax, insurance and the upkeep? The worst thing you can do is just push this out of your mind now, and then when you are even older be forced to make a move for physical or financial reasons. Downsize now and you future self will be so grateful.
Don't….Rule Out Working in Retirement. A part-time job can be a great way to supplement your retirement income. And that can be a big help in the early years. For example, you now know that I want you to think about delaying when you start to take Social Security. So let's say that instead of starting your payout at 62, you instead looked for a job that would pay you the equivalent of your age-62 benefit. The average benefit is around $1,000 a month. So a part-time job that pays you that much can make it easier to forego starting your Social Security payout. Besides, staying "engaged" is good for you socially.
Suze Orman has been called "a force in the world of personal finance" and a "one-woman financial advice powerhouse" by USA Today. A two-time Emmy Award-winning television host, New York Times mega bestselling author, magazine and online columnist, writer/producer, and one of the top motivational speakers in the world today, Orman is undeniably America's most recognized expert on personal finance. Visit Suze's website, http://www.suzeorman.com, to access a wealth of resources that will help you to get smart about your money.
Here's one last "don't" from DentalPlans.com to add to the list above:
Don't… Assume Medicare Will Cover Your Senior Dental Care Needs: Medicare does not cover routine dental care, and even if you have dental coverage through a supplemental Medicare Advantage plan, it likely has an annual limit of $1,000-$1,500 – that's about the cost of one root canal and a crown. You can purchase a stand-alone dental insurance plan to supplement your Medicare, but Suze recommends that people who are getting ready to retire, or who have already retired, should look into dental savings plans.
Also known as dental discount plans, dental savings plans are not insurance. "They are better than dental insurance," says Suze. "Dental savings plans are very affordable, and – unlike traditional dental insurance - there is no annual cap on your coverage."
With a dental savings plan you save 10%-60% on the typical cost of dental care and treatments at a nationwide network of more than 100,000 dentists. Participating dental care providers have agreed to accept a discounted fee from plan members.
"A dental plan is your ticket to
affordable dental coverage
for the rest of your life. I have saved big-time using a dental plan that my dentist accepts," says Suze. "I can't imagine why anyone, especially seniors, would not want to do the same."