38 Reasons To Join A Dental Savings Plan
What motivated our members to join a dental savings plan? Better health, bigger savings on dental care (members pay 10-60% less than the going rate for dental care!), a beautiful smile … or all of the above? Sure, and there are plenty of other reasons to join a dental savings plan too. Dental insurance isn't the right choice for everyone. Check out our list below, find your inspiration, and join a plan so you can get the dental care you need from your pick of thousands of dentists nationwide. Yes, you can afford quality dental care … with a dental savings plan.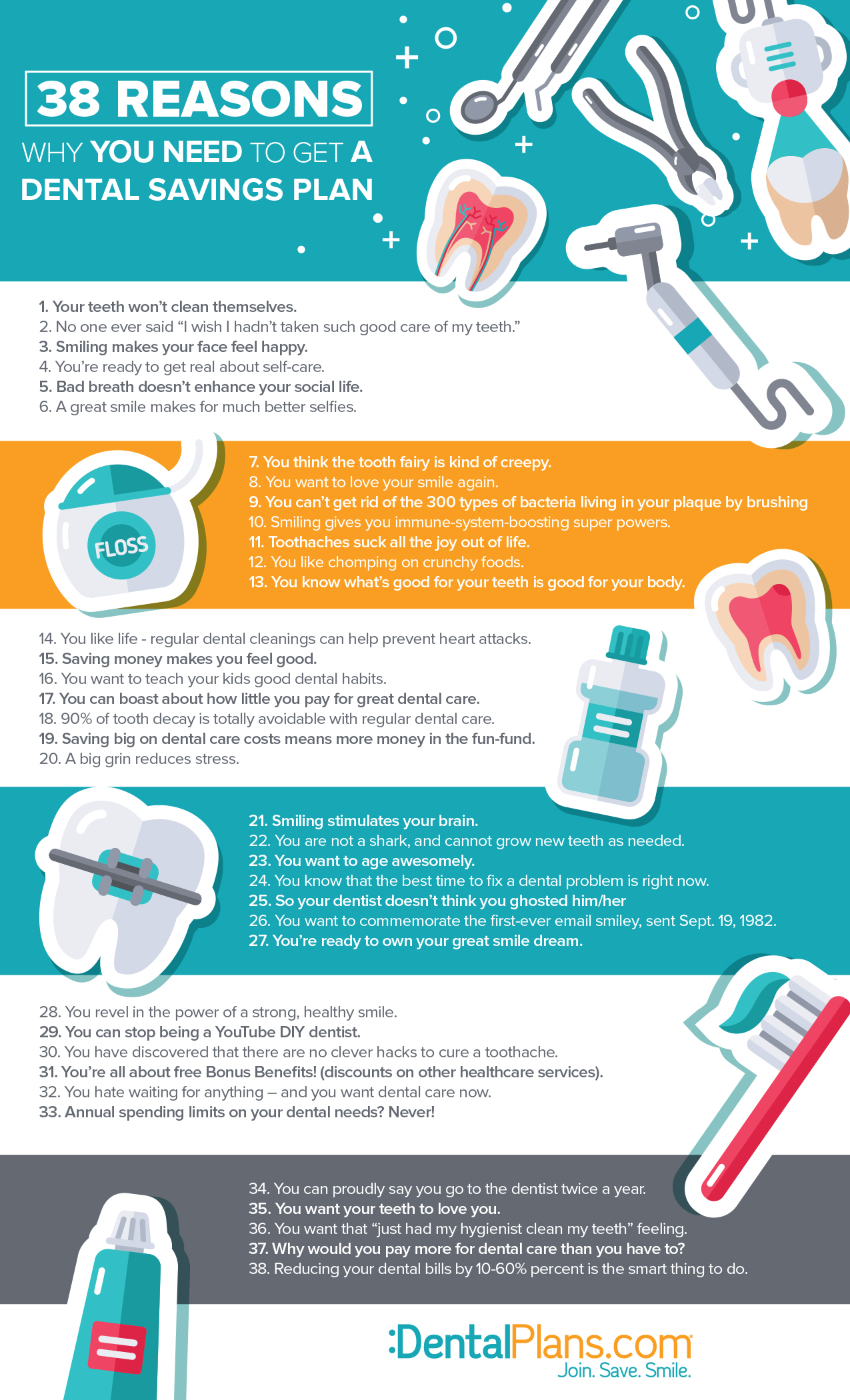 Dental Insurance or Dental Savings Plans
You can find dental insurance or a dental discount plan that meets your treatment needs – whether its cosmetic surgery, implants, root canals and crowns, or basic maintenance – and then find a dentist who accepts your selected plan. Many of the dental savings plans offered by DentalPlans.com also include savings on general healthcare needs, including telemedicine, vision and hearing services, prescriptions, chiropractic, and more. Dental savings plans can help make essential healthcare affordable for people who are under-insured, want to save on services not covered by their insurance, or those who have exhausted their benefits.
Your options for getting the care that you need now include buying a dental savings plan, the affordable alternative to traditional dental insurance. Dental savings plans do not have waiting periods, annual spending caps, deductibles or exclusions for pre-existing conditions. Members of a dental savings plan can expect to pay 10%-60% less at the dentist.
Confused by all of the options? Call DentalPlans.com a dental savings experts at 844-210-2558.