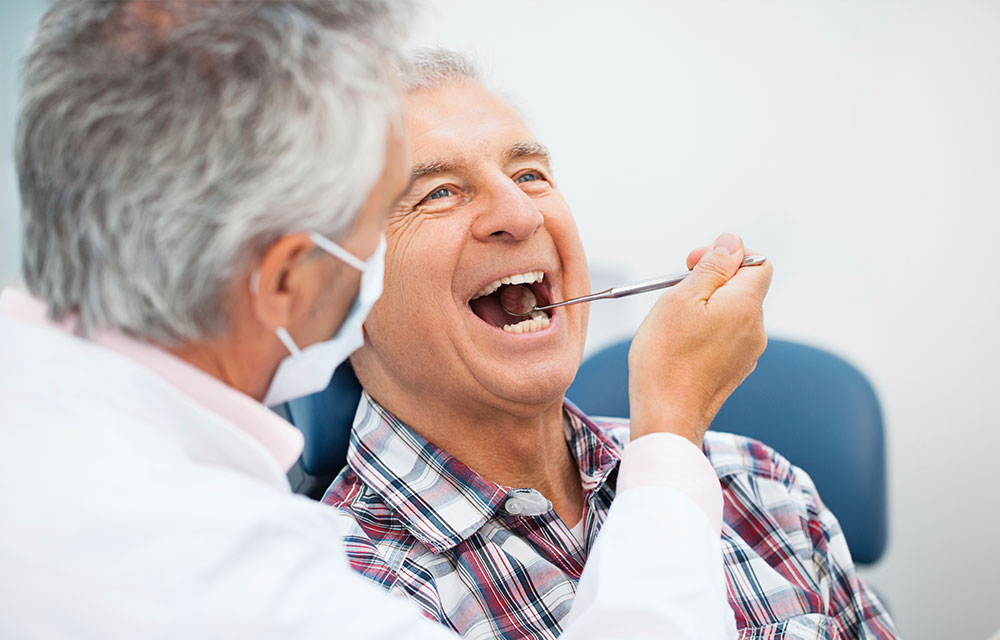 Affordable Dental Care for Older Adults
No matter how many birthdays you've celebrated, good oral health is essential to overall health.
But older adults can have unique oral health needs and barriers to accessing dental care, according to the National Poll on Healthy Aging, which found that almost half of adults aged 65–80 (47%) do not have dental insurance. One in five say they experience dental pain and have problems with eating and chewing. The same percentage of older adults said they have not been able to access needed dental care in the past two years due to cost or problems with their dental insurance.
One in five older adults (20%) reported delaying or forgoing needed dental care in the past two years. The two main reasons for delaying or not receiving needed dental care were out-of-pocket costs (77%), problems with dental insurance/cost of having dental insurance (52%).
Oral Care Concerns due to Aging
As our bodies age, they develop a unique dental health needs. Without regular visits to the dentist and good oral hygiene, several problems can arise. Regular preventive care – dental checkups and cleanings – can dramatically reduced the risk of dental health problems. Unfortunately, according to the CDC:
1 in 5 American adults aged 65 years or older have untreated tooth decay.
About 2 in 3 (68%) have gum disease.
Nearly 1 in 5 of adults aged 65 or older have lost all of their teeth.
Seniors are also susceptible to:
Dry mouth
Gum disease
Uneven jawbone caused by tooth loss
Denture-induced tissue inflammation
Overgrowth of fungus in the mouth, known as thrush
These conditions can lead to further problems which adversely affect older adults' ability to maintain a healthy lifestyle and quality of life; including the inability to chew or eat, mouth and gum pain, irritation due to ill-fitting dentures and implants, missing teeth, cavities and decay.
Senior Dental Care Options through the Affordable Care Act (ACA)
The ACA does not require adults to have or purchase dental insurance; few of the plans on the Marketplace will include dental benefits.
Stand-alone dental insurance policies are available through the federal health Marketplace, healthcare.gov, but only with the purchase of a medical insurance plan from the Marketplace.
And federal subsidies are not available for stand-alone dental plans.
A few state-run marketplaces do allow residents to purchase stand-alone dental plans without the requirement that they also purchase a health insurance policy. You can also obtain dental insurance plans from brokers, agents, and insurance companies.
Senior Dental Care Access through Medicare
Original Medicare and Medigap plans do NOT provide coverage for routine dental care. Many Medicare Advantage managed care plans do offer dental benefits. In fact, 72% of those with Medicare Advantage coverage said they'd chosen their plan in part because it covered dental care, according to the National Poll on Healthy Aging.
The rules applicable to people who want to purchase ACA health insurance and qualify for Medicare are complex. It's best to speak with an advisor who is familiar with your unique circumstances. In general though, in the states where the federal government runs the ACA Marketplace, dental coverage is available only to those who also buy health insurance. And stand-alone dental plans are not eligible for subsidies. Options to explore include obtaining dental coverage through Medicare Advantage, purchasing a supplementary insurance plan designed for Medicare recipients, or joining a dental savings plan as an alternative to traditional dental insurance.
Senior Dental Care Access through Medicaid
Medicaid is the federal-state partnership program that provides health care coverage for low-income Americans, including seniors. Under the federal law, dental benefits are an optional service for state Medicaid programs. States can include adult dental benefits in their Medicaid programs. Many states do provide dental benefits for adults; however, the status and extent of those benefits vary by state and by year, depending on the availability of state funds to support such benefits.
Dental Savings Plans
Dental savings plans are an affordable alternative to dental insurance. Members can save 10-60% on dental care from a nationwide network of 140,000+ dentists. Typical savings range from 10-60%, depending on the plan you join and the services you require. It's easy to compare plans, and choose the one that offers the savings and features that meet your needs.
With a dental savings plan, there is no annual spending limit (most insurance plans have an annual maximum around $1000-$1500 - about the cost of a root canal and dental crown - and often have a waiting period for these major procedures). Dental savings plans do not have deductibles, waiting periods, or claims to file.
If you want to learn more about how dental savings plans can help you maintain your oral health, reach out to us at 1-833-735-0399.